Our online shop is temporarily closed while we update it.
It will be open again soon.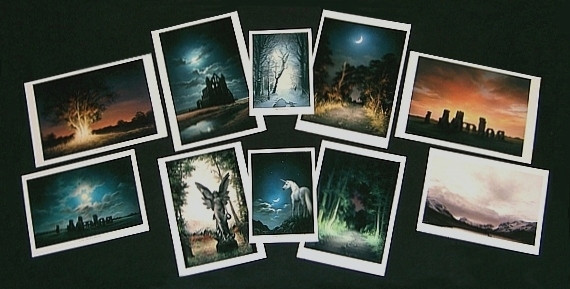 A number of Anne's paintings are available as prints. The prints are on acid free 308g fine art paper with a white border and are available in three sizes. The sizes and titles are listed below. We hope to update this page soon to include images and shopping carts, until then please email your order. Images may be seen on the Galleries page.
For trade enquiries email info@annesudworth.co.uk
Large Prints, 483mm x 329mm - £46 each (plus £4.50 p&p - UK).
Medium Prints, 420mm x 297mm - £38 each (plus £4.50 p&p - UK).
Small Prints. 329mm x 241mm - £28 each (plus £4.50 p&p - UK.).
Please note, these are the paper sizes, the actual images will be smaller and dimensions may vary depending on the picture. For orders outside the UK please email us to advise of p&p cost. When buying a number of items postage may be cheaper.

Prints available
in large, medium and small.
Ethidwyre
The Snow Tree
The Goblin Tree
The Fairy Wood
The Enchanted Tree
Ghost
The Invitation
Bethan Igert
Into the Tangled Wood
Earth Light Trees
Windleshaw Chantry
Whitby Abbey
Whitby Abbey Dusk
White Goddess
Stonehenge
Stonehenge by Moonlight
Solstice
Ascension
Giants' Dance
Avebury
Avebury Dawn
Castlerigg Stone Circle
Wayland's Smithy


Old Wardour Castle
Glastonbury Abbey
Glastonbury Tor
Dreams and Whispers
Samhain
Crummock Water
Candle II
Angel
Footprints
Winter
Night
The Edge of the World
Breath of the Bright Fey
Daughter of the River
Stealer of Hearts and Keeper of Dreams
Black Cat in the Moonlight
The Midnight Cat
Tintagel
Arthur's Castle
Merlin's Cave
St. Nectan's Glen
The Big Belly Oak
Original Works Prints Greeting Cards Books