Welcome to our online shop.
We have an extensive range of Anne Sudworth's prints, books and cards as well as information on original works for sale. We will continue to add new prints and cards to the range so if there is a particular painting you are trying to obtain as a print or a card, please let us know and we can tell you if it will be available. We shall be updating the shop pages with images and shopping carts but until then, please email your orders. The images can be seen on the Gallery pages. Our online shop is part of The Anne Sudworth Gallery.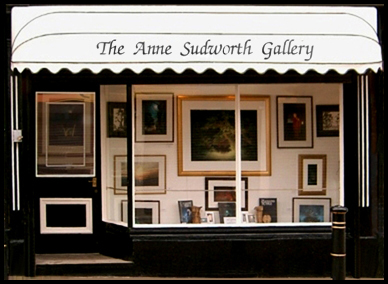 The Anne Sudworth Gallery

The Anne Sudworth Gallery is a small, independent art gallery specializing in Anne Sudworth's paintings, prints and drawings. It provides a permanent platform for her work, with a continually changing display and the occasional themed exhibition. As well as showcasing the original works, the gallery stocks a wide range of the artist's prints, books and cards and attends a number of art fairs, festivals and conventions. It also deals with all enquiries concerning the reproduction and publishing rights of Anne's work. It is not Anne's painting studio and unfortunately she is unable to be present at the gallery except for openings and private views. The gallery is only open by appointment with the gallery manager, Mr James Brook, please telephone +44 (0)1744 753739 or email gallery@annesudworth.co.uk

For all trade and publishing enquiries email info@annesudworth.co.uk
or telephone The Anne Sudworth Gallery on +44 (0)1744 753739
The Anne Sudworth Studio Art Gallery, 43 Westfield Street, St Helens, WA10 1QA, UK
We accept payment by cheque or via Paypal. Please visit the pages below to view stock.