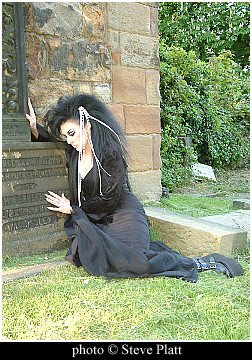 Anne Sudworth's work is beautifully described by Academy Award winning actor, Nicolas Cage, who wrote
Anne Sudworth's art awakens the inner glow I felt as a child when I beheld a tree for the first time under moonlight. She recalls in me a soft, light green illumination that restores my imagination; gives me strength in my adult life, and never stops burning no matter how dark the night gets. Like Graves' "White Goddess" her paintings are poetic, magical gifts direct from the source."
Anne Sudworth is a self taught artist, always preferring to explore her own ideas. She has experimented with many different media including oil, watercolour, clay, pen and ink and mixed media. She now works mostly with pastel and charcoal. She says "Ever since I was a small child I have felt the overwhelming desire to create, to capture what is in my head and my heart and to put it down and make it visible. And drawing and painting have always been my preferred forms of expression."

Her dark, moody pastel paintings are deeply involved with nature and its more mystical aspects. She says " In much of my work I use aspects of magical imagery and ancient beliefs, a mixture of the natural and the arcane. I like to explore the idea that the earth has a darker, lesser known side, perhaps one of which our ancestors were more aware. This is probably most evident in my Earth Light Trees." She is perhaps best known for her "Earth Light Trees", an ongoing series of paintings which represents a central theme in her work. These pictures all show imaginary scenes in which trees, forests and woodlands glow with their own "earth light" and life force, symbolizing the power and energy which the earth holds. Moonlight is also a dominant feature, with the moon in various phases providing an important part of the symbolism which runs throughout her paintings. She says " I have always been fascinated by moonlight and often walk at night, especially on the hills and in woodlands. I love wild places, and at night time they seem to take on a particularly magical feel." The stony path is also an important motif in her work and appears in many paintings.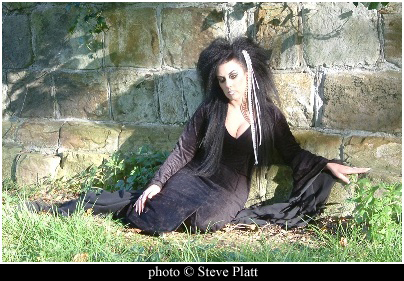 Her inspiration comes from many things including dreams, mysticism, nature, death, mythology and folklore. Her dreams and imagination have always played a big part in her work and she is often described as a visionary artist.

She is well known for her depiction of many of Britain's megalithic sites including Avebury, Stonehenge, Wayland's Smithy and Casltlerigg Stone Circle. These wonderful sites have become an important part of her work and have taken on a spiritual significance, similar to that of her trees. She calls these ancient trees and stones "the silent watchers of our world". There is something dark and alluring about them, something of the esoteric. Indeed they have become entwined in her own personal mythology which manifests itself in the many layers and motifs in her paintings.

Her work is perhaps best summed up by John Grant who said
" The work of a gifted artist offers windows onto a profound, insightful reality. True artistry is, arguably, that initial act of seeing; the technical rendition, while of course extremely important, is secondary.The work of artist, Anne Sudworth, proves a point. A brilliant technician - her evocative, often broody pastel works are superbly rendered and display an almost uncanny mastery of light in all its many manifestations - but it is the vision inspiring her work that sets it apart. Her pictures have a powerful affect: they pulse with meaning, with the sense that there are many more levels of reality than the superficial one we normally accept as being all there is. One could think of the world of Anne Sudworth as the world you can only ever see out of the corner of your eye, and which disappears when you turn to look at it face on."